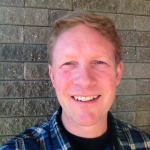 Pastor Chris Harder
Rev. Christopher Harder has been Lead Pastor of Williams Lake Alliance Church since 2012. He has been married to Stephanie since 1993.
Chris grew up in Winnipeg until age 10 when his family moved out west to B.C.  Graduating with a Bachelor of Theology from Canadian Bible College in 1993, Chris served in Alliance churches in the State of Montana from 1993-2011. He has pursued continuing graduate studies through Canadian Theological Seminary (now Ambrose Seminary) and ACTS Seminaries.
Chris and Stephanie  have been blessed with two children, Cameron and Kendra, now both out of high school and working & studying in Williams Lake. They are glad to have a little more time together as a family before the kids leave the nest for good.